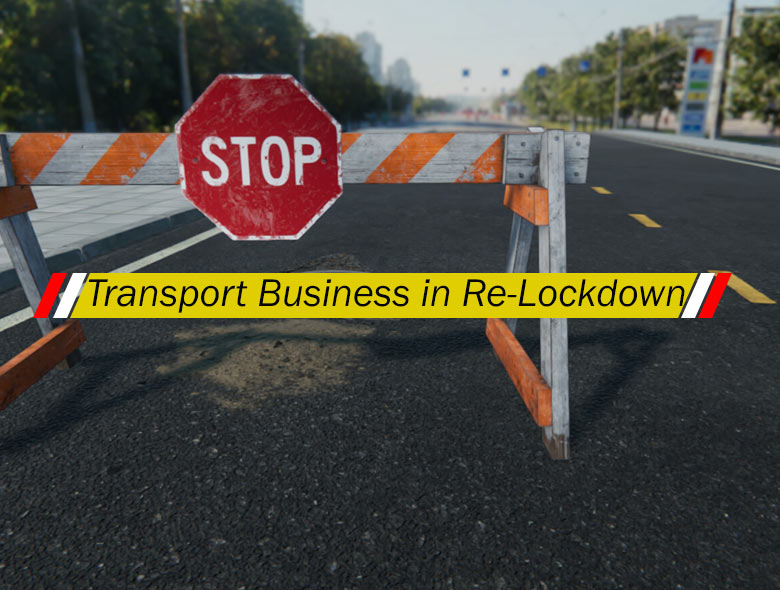 The second wave of COVID-19 has again reflected a considerable drop in truck rentals. Transport businesses are pressurized to leave their trucks idle and face a potential business shutdown. They are hoping to find reliable strategies and solutions to manage their business ideally in the re-lockdown scenario.
Many truck owners, brokers, and executives are asking, "What do we do to manage our transport business in this second wave of the pandemic?" To help them out, this blog post explains some of the common strategies that would work for all transport companies irrespective of their core competence and level of operations.
1. Diversifying Business Models
Some companies in the transport sector will have enough financial as well as the strategic potential to take advantage of the second wave of the COVID-19 crisis and stand out competitively. But what kind of movement will happen in the industry? This is the question that arises and its answer depends on how bad this downturn gets. There are several opportunities to leap ahead of this crisis in the sector.
A diversified transport business model can be your savior in the re-lockdown(2021). You can say that diversification in the business can be your survival tactic as of now. Many trucking companies are embracing this approach for a while now. Less-than-truckload(PTL) providers have switched to truckload, FTL companies moved to intermodal transportation or warehouse. It seems that everyone is stepping into the field of logistics gradually. Some of them are even moving to the industry of solar energy and real estate.
Diversification has not just been done by the medium or large transporters but it's been done on a smaller scale too. Apart from diversifying the business model, you need to focus on customer diversification, as well.
As everything comes with its plus and minus points, diversification has the same case. Make sure you do deep research and analysis of the untouched opportunities that are available to you before you switch your existing transportation model.
2. Leverage Your Network with Other Stakeholders and Government
The second helpful strategy that can help you run your transport business in the re-lockdown is leveraging your network. Reach out to your network of transport brokers, specialists, and coaches to find a way to manage the business in this crisis.
Additionally, you have to get in touch with the government and stakeholders to uncover the major transport requirements. For instance, COVID-19 vaccines have to be transported to various healthcare centers and hospitals across the city. If you have regular communication, you may get a booking to supply vaccines to the hospitals.
In short, you need to proactively reach out to people to generate opportunities for your business. Collaborations made at this time will be beneficial for your transport company post lockdown.
3. Focus on the Cost & Revenue Implications
Up next, you should concentrate on the cost and revenue implications of your transport company. When you have an idea about how much you have put into the ridership and how much money you have made from it, you will be able to make informed decisions. You can determine the actual number of employees who run your transportation system. And, if there is something extra that is just adding up to the cost but not getting any revenue, you can put it down. Furthermore, you should try to cut down unnecessary expenditures, send reminders to the debtors for money recovery,
By re-doing cash flows and company budgets, you can safeguard the core assets of your transport business. Knowing the financial state of your business is crucial for effective management in this crisis otherwise you may have to shut down your company.
4. Protection of Key Personnel & Training for Multiple Works
Running a transport business without competitive employees seems impossible. It's a hard time for both business owners and employees. Therefore, you should do every possible thing to protect your personnel. First of all, you need to make important staffing decisions, such as employee lay off, pay cuts, etc.
Additionally, determine your key personnel without who you cannot manage your business. Once, you have determined your key employees; spend time training them on multiple jobs. When your key personnel is ready to handle the key roles, you don't have to worry about operational management.
5. Others
Apart from the above-mentioned strategies, there are several other things suggested by Deloitte that you can do for effective management of the business. Here they are:
(a) Liquidity Management
Management moves for the transporters on the edge include accelerated invoicing, freight factoring, group orders, delayed supplier payments.
(b) Margin Improvement
Transport companies having more freedom on the financial and strategic grounds can consider margin improvements, including:
– Optimization of client portfolio
– Implementation of dynamic or strategic pricing
– Optimization of route and network
– Changing the combination of labor
(c) Strategic Investments
For the companies who have the potential to re-define their future and create transportation industry flexibility, these can be the right things to do:
– Distressed assets acquisition
– Consolidation of underutilized resources
– Exclusive services introduction
– Expansion into new markets
(d) Tax Strategies
These tax strategies are ideal for all transport companies, no matter at what level they are:
– Maximizing tax credits of employees
– Five-year NOL carryback plan
– More interest expense deduction
– Capturing other opportunities under the CARES act
CONCLUSION
Some will have the resources to improve their functionalities. Others will try to cope up with this crisis by finding opportunities. And, maybe a few transporters will create a new business strategy altogether. This is the time to reboot your transportation company and adapt according to the new atmosphere. As you find your way, consider the advice given in this blog. Hopefully, these approaches will help you manage your business in the re-lockdown and leap ahead. The second wave of a pandemic can be a great opportunity for you!
Editorial Staff at Bharat Software Solutions is a team of transport management system development.