How to Reduce Software Development Costs?
Be it any type of industry, business entity and any scale of business, computerized systems are the lifeblood of commercial organizations today. Public, private, government, NGO, multinational companies or your local brick-and-mortar grocery store, the use of software programs have replaced most manual-driven work and tasks in all sphere of our lives.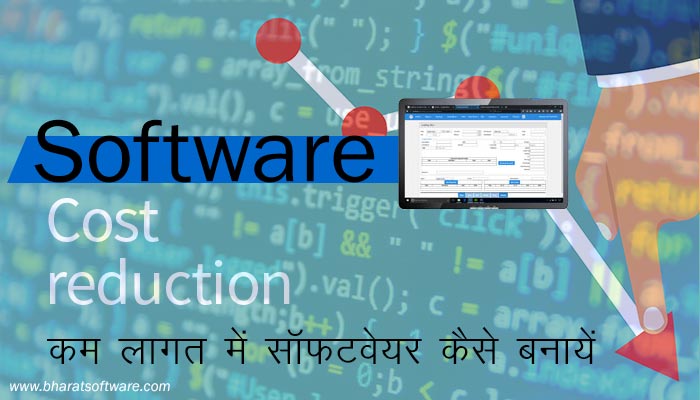 The software-hardware combination provides umpteen advantages to users and business entities. It automates work processes making them effective and efficient and drives workplaces towards optimal performance. Reduced costs and maximizing returns through the best use of manpower and available resources, computerized systems helps in many ways.
But, in a market that is filled with generic software systems, your business needs customized software-hardware systems to be able to meet the exact and specific requirements of your organization.
The question that haunts most decision-makers in commercial organizations is whether to go in for customized software development or invest in a generic software product that has been developed for your specific industry or hire software developers on the payroll for developing and implementing software solutions. The decision often becomes challenging because of the massive costs involved.
Software programs and computerized systems do not come cheap. There is a price attached and a huge one at that. But which proves to be cheaper – customized software development or installing a computerized system that is industry-made or hiring software developers for in-house development? Here, in this article today we attempt to answer this question.
Custom-Made Software Development For Your Business is a Cost-Effective Investment
One of the most cost-effective ways of installing software in a business environment is going in for software development where a tailor-made computer program is developed for the business. Of the two options that exist with decision-makers, outsourcing the task of software development definitely is the cheaper option than getting on-board skilled programmers and coders. This is because of two reasons:
Hiring involves upfront costs that include the salaries and perks of the software developers;

In the long run, outsourcing the job implies turnkey projects where the outsourced company not only develops, it trains, maintains, updates and improvises the system from time to time depending on changing business requirements. 
In this context, it is worth mentioning that investing in generic software can often lead to chaotic conditions and also ineffective performances and results. This is because the software is not made to match your organizational needs and requirements. In order to make such a software program truly effective, you would need to run to and fro a lot with the software company so that they customize is as per your specific business needs.
It is important for organizations, however, to understand that in a world where every second software development company claims to be the best in the profession, they need to research, evaluate and assess well before deciding to sign the contract for software development with the third party. 
Steps To Ensure That Outsourced Software Development is Profitable
As mentioned, when it comes to selecting the right vendor for software development, you need to ensure that you spend time and cross-check all aspects before making a decision. Below are a few tips that can guide you to get a befitting decision in this context.
1. Find a New Startup Company For Software Development
The first step is definitely focussed on preparing a list of software companies that are experienced in your industry and domain. Some of the ways that you can go about preparing this list are:
(a) Finding out online after reviewing the profile of the companies meticulously. 
(b) Taking referrals from colleagues in the industry. Word of mouth still works a lot more impressively and is still a trusted source of seeking information.
(c) Speaking to trade associations to find references of credible software developers who can be entrusted with the task of upgrading systems and processes in your work environment.
Make sure that you have at least three to five names on your list after an exhaustive study of the company profile, area of specialization, informal reviews from references and more. These vendors come back with what they can do for your business and also propose the quotation. Based on the detailed proposal, you make a decision and enter into an agreement with the vendor.
2. Brief Your Business Process On Document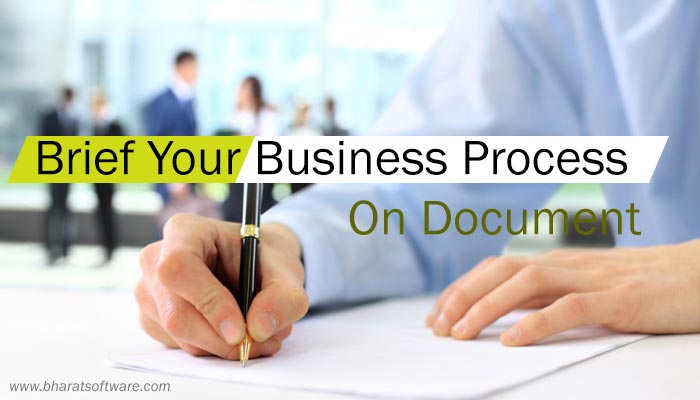 The steps are to get in touch with each of the companies mentioned on your list through a phone call or email. It is wise to use the phone and email as the first communication point but it is necessary that you meet the company representatives face-to-face through a scheduled appointment to take things forward.
Why is an in-person meeting important here?
Because you need to have a face to the probable vendor that is going to be a part of your extended working in the near future.

Also, because this meeting is where you are going to define your exact requirements to the other party. 

Ensure that you brief the software development company with precision on your exact needs. Convey to them why you are shifting from manual processes to computerized systems and what is it that you finally aim to achieve by doing this.

Ensure that the points of the meeting are noted down and emailed to the other party after the meeting. 

Involve your technical team throughout the process because they will understand the terms and terminologies better.

To complete this process, send your detailed requirement in a comprehensive manner in writing so that there is no discrepancy in understanding.
3. Also, Brief Your Manual Management Failure Point
There is a reason why you have decided to move out of your manually-driven system and embracing a new computerized system. You need to note down precisely and concisely the points where the manual system has failed and what are the cons of the previous system that you need to polish with the new software. The manual system obviously has gaps that are not enabling your organization to perform optimally and at the maximum level. It is advisable that such points that were proving to as deterrents be recorded and conveyed to the outsourced vendor, point-by-point. 
Manual systems are dependent on the moods and whims of people who are performing the task. That is a big issue in itself. With manual systems, processes can never be standardized and streamlined. Monitoring and controlling processes and systems also prove to be a big challenge. Before you go in for an actual shift from manual to a computerized system, make a conscious attempt to note down the lags and gaps – processes that are failing and not being carried out to the best of their capacities. 
4. Use Trail Version Before Purchasing The Software
Now that the outsourced vendor has all your requirements and needs pin-pointed and defined with clarity; the vendor proceeds to start with the development work. Just like a normal standard manufacturing process, prototyping occupies an important position; similarly, you need to stress for a trial version at the beginning with your vendor. A trial version is a simplified system of the actual software. Working on this initial version helps the business management to understand the flaws in the design and concept of the software. It also provides the end-user the chance to work on it for trial and error providing the technical team to finetune the design and coding plans. This helps save costs that would otherwise get spent unnecessarily in fixing bugs in the final software.
You need to pre-fix and pre-determine the timeline for trying out this version during the planning phase itself so that the overall project does not get delayed and instead is delivered on time.
5. No Need For Any Crash Course For The Software
The main reason behind outsourcing the work of software development is that your business does not need to invest in any overhead costs like employed trained software developers and coders or having your existing staff receive elaborate training on coding and software development. All the software-related tasks are handled by the third-party vendor providing end-to-end services. So, be it writing the codes, finetuning the codes, updating and uploading the codes or providing training to the end-users, all are handled by the vendor. 
Hiring a vendor on contract implies that the business does not have to utilize its existing manpower on getting a software-related crash course. Your staff does not have to get into the nitty-gritty of coding and learning how to do the technical backend task. That will be handled by the learned and experienced team of the vendor thereby helping you save costs.
The development of software and installation of the hardware-software combination in the workspace needs a thorough understanding of the technicalities involved which is why you need experts to work for you. It is definitely not a layman's job. Getting inexperienced people to work for you can prove disastrous and also end up costing way more than your budgets on hand. Choosing an established company may seem expensive at the initiation but since such contracts have a longer shelf life, in the long run, such investments prove to be highly cost-effective and mean to have the right software developed at reduced prices.
There are many software companies in India who offer low-cost software development, like:
SLS Software
Rubix Tech
MCI Digital
CFCS
Digital Marketing Executive