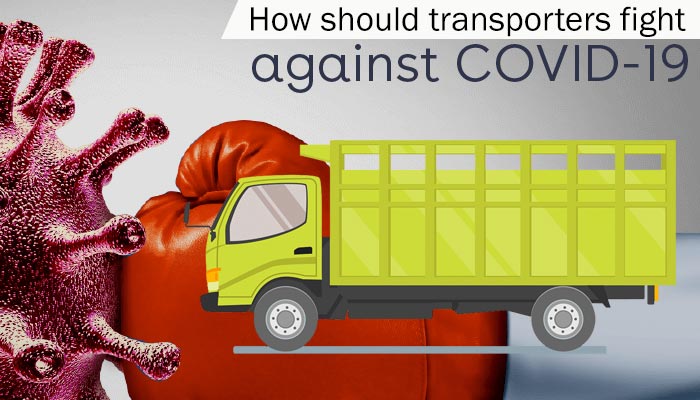 How Should Transporters Fight Against Lockdown (Covid-19)?
It started in late December, and the entire world was taken aback by the atom-sized coronavirus. COVID-19 has reached over 185 countries, as of writing, and is showing no signs to take a step back. Scientists and researchers across the world are working hard to know more about coronavirus. They have been pushing the frontiers of the pharmaceuticals to develop a vaccine to treat the infected patients.
Social distancing and frequent use of alcohol-based sanitizers can contain the spread. As a result, the government of a majority of countries is taking stringent actions to contain the pandemic. Lockdown has become the fate of countries across the world.
All this while, the travel industry has suffered from the worst-hit. The lockdown has put the need for travel to the back seat for the citizens of the country Airlines, rail, and on-demand cab service businesses are facing a slump in their monthly revenue. However, a sudden slowdown has been observed in the transport sector.
The lockdown has widened the gap between the supply chain and the demand chain. The only demand, in recent times, is for grocery and medical supplies. The other sectors are on a break. As a result, the need for logistics has reduced.
What are the impacts of lockdown on the transporters?
The transport sector supports nearly 20 crore individuals in India. Below are some of the impact of lockdown on the transporters:
Lack of drivers as well as subordinate staff to manage freight.

Small transporters may shut down.

Road transport that accounts for nearly 60% has come to a halt, and only stranded trucks during lockdown 1.0 are permitted to go to their destination.

Transporters need to issue an e-pass for traveling across states, which would take more time than intended for the fulfillment of an order.

All this while, there has been little relaxation; however, the sword of road tax, passenger tax, and goods tax will remain hanging on the heads of the transporters.
Trucking and freight are only allowed for essential goods. However, the movement from warehouse to stores is still limited.
Fighting Against Lockdown?
The signs of relaxations seem to be strong in the future. As a result, you have to take some of the steps that can help you stabilize your business in the current situation and push your business forward in the future when things become normal.
This is the time when you can actually take some time off from the business and take a look around as an administrator. Since lockdown is not ever-lasting, you can have a shift of focus and rethink your resources.

Estimate your monthly budget and think if you need these many resources. This is because things would return to normalcy, but it would take time. So, when you are manually dependent on your resources, now is a good time to decide whether you need all the resources or not.
Get into Essential Services
During the lockdown, if there is one thing that is witnessing a boom, it is the essential services. Supply of food products, medicines, masks, and other pharmaceuticals are in high demand. As a result, if you are not into the transportation of the essential goods, you can jump into the niche and start exploring it.

You can contact the manufacturers directly and gain projects. During this time, even manufacturers have this need to let more products out in the market, whereas the distributors are facing scarcity of the resources. In such a situation, opting to transport essential goods may turn out lucrative for your business.
Leverage Interstate Movement
Intrastate movement of good is still a distant dream. If not a distant dream, there are many roadblocks to it, and securing an e-pass is one of them. Constant checks are further delaying the movement.

As a result, now is the best time to leverage the interstate movement of goods. You can contact the distributors and ask them for their requirements. Target short trips within the state. This way, you would be able to finish more trips in your state. Hence, you can make up for the slump in the revenue to some extent. Use resources that have newly joined.
Optimize your Warehouse Capacity
The regular supply and disposal of goods have come to a standstill. As a result, there is a lot of space in your warehouse. This is the time for you to think digital about your warehouse. You can opt for warehouse management software and train your employees to use the digital system.
This way, when the lockdown is over, and things return to normalcy, you can make the most out of your warehouse. You can manage a large flow of supply and delivery, as your warehouse turns efficient.
The tax is going to be there in various forms, despite the lockdown and almost zero revenue coming your way. Though you cannot take many actions, you can still have one thing in your hand—and that is planning for your business.
 It is the time that you reanalyze your business and focuses on the strong as well as weak points. This way, you would be able to emerge as a strong transporter after the lockdown. If you have an offline business that you operate using a pen and paper, you can think of digital.
 You can analyze the pros and cons of going digital and weigh them to integrate the solutions.
Use Fleet Management Software
Many transporters have grabbed the early slice of transportation management software and can translate their smart thinking into revenue. You may have a freight of 10 vehicles or 100 vehicles, it is indeed a difficult task to manage all the operations.
In such a situation, a freight management software can be a viable solution to improve the productivity of your business. Using this software, you can efficiently handle the payment receipt, accounts, GST invoicing, balance sheet, fleet hiring and providing, driver settlement, trip sheet management, etc.
How can a Fleet Management Software Help Transporters Make the Most Out of this Situation?
To fight something, you need a weapon. To fight the pandemic of coronavirus, we need social distancing and lockdown. Similarly, you need a fleet management software to fight for the losses that you have suffered from.
A fleet management system underpins the optimal utilization of resources and processes to boost revenue. There is so much that vehicle owners, fleet managers, and agents can do using this single software.
Below are some of the features of the fleet management software:
Using a fleet management software would give you complete control of the fleets and drivers so that you can manage your logistics seamlessly and cost-effectively. The integration of GPS technology helps the clients to monitor the speed of the vehicle and gauge the estimated time of arrival. As a result, you can cut down on the pay of your customer service agent.
Managing Multiple Branches
You may more than two branches at the same time. Now, you cannot be present at both the places physically; however, the fleet management software provides you with the leeway to manage both or all the branches efficiently. You can check the fleet status of all the branches that you handle using the dashboard view.
You have to have a human resource to handle the payroll of your employees. However, payroll is an extremely complicated task. The level of complication increases as the number of employees in your organization increases.
In such a situation, the fleet management system is, in turn, integrated with the payroll system, which handles wages, bonuses, TDS processing, EPF Act, ESI Act, etc.
If you are wondering about the security of the data using the fleet management system, you can rest assured. These days, the fleet management software are developed in a way that they are highly secure and hack-proof.
Managing one client is easy; however, managing multiple clients—new clients, old clients, temporary clients—is a hell of a task. In such a situation, you do not have to go file-hopping to understand how your clients operate. You can simply leverage the fleet management software and manage all the clients using a single portal.
Lockdown is but a slowdown. However, you have to prepare your business during this time to run at full-speed once this is over. While manual processes can bring errors and increase time to complete processes, you can opt for digital solutions for your logistics business.
There is numerous software that you can use; however, your business' needs may be different, and it may require a customized fleet management solution. If you want to pick up the lost pace, we have a range of logistics management solution for you.
Let's connect.
Editorial Staff at Bharat Software Solutions is a team of transport management system development.