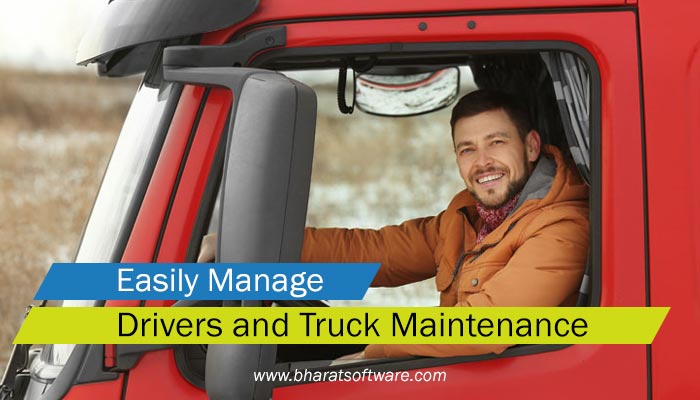 The Indian transport industry is majorly dependent on trucking services. Therefore, driver management is a great topic of discussion. The success of transportation companies highly depends on the performance of the carrier drivers as their performance influences the customer's outlook for motor carriers. Therefore, the transport industry needs a modern driver management system.
If you are small trucking or transport company with 2 to 3 personal vehicles, then you may manage drivers and trucks manually. However, when you possess hundreds of vehicles then manual management of trucks and drivers seems to be an impossible task. This is why you need to introduce automation in your business environment. The entire process of fleet and driver management will become so convenient that you may don't even need separate employees for looking after different things. You can do it all by yourself!
The truck driver management software is a one-stop solution for ensuring the safety and high productivity of all drivers in your transportation company. Being a transport owner or manager, you should have real-time information about each truck so you can ensure the safety of goods. With deep real-time business insights, you can scale up your business quickly, save a lot of time in coordination & management, and enhance your customer services.
Benefits of Modern Driver Management
Real-Time Tracking
There is multiple advantages of a management system and real-time tracking is one of them. This system provides you with more business control to ensure smoother workflow by showcasing real-time information about your trucks and drivers. Although tracking software is nothing new, a driver management system like Bharat Software Solutions can surprise you with its advanced capabilities.
The real-time reports of carriers allow you to have a deep insight into your drivers' performances, which not just ensure higher productivity but the safety of customers' goods. This particular system offers access to the updated data that includes driver status, location, and safety measures.
This kind of detail helps develop trust with your drivers and gives you peace of mind that they are working safely. More significantly, real-time tracking helps foster proactivity in the company.
GPS is responsible for real-time tracking and updating telematics information in the driver management software. It helps you ensure exactness in odometer readings. All this real-time data provides you with flexibility and seamless communication with your clients on timely or delayed deliveries.
When you have an automated system in your company to manage and track the performance of drivers, you and your drivers can work with finesse. There would be transparency in the business that is one of the most important elements in the success of any company.
Cut down Truck Expenses
The truck driver management software should be appreciated for cutting down the truck expenses. Let us explain you clearly.
Fuel is the biggest recurring expense for trucks so it is necessary to keep a record of fuel consumption by your fleet. With the help of driver management software, you will have updated data for analysis. You will be able to overview and compare distance and mileage for everyday bookings.
Tracking fuel consumption and comparing it to the automatically-updated telematics data can help minimize fuel expense. You can also provide each of your drivers with training on how to find the best routes to reach to and from the destination point in the least time and with less fuel usage.
Safely Goods Movement
The best USP of the modern driver management application is it ensures the safe movement of goods. Safety of goods is not just crucial for your clients but also for your company otherwise it will hamper your brand reputation. Your consignments should be protected when things turn unfavorable.
The technologically advanced driver management software will keep you alert when goods and drivers are at risk during transportation. With a GPS tracker, you will notice the current location of the trucks. Whenever you see a long stop in between the route, you can immediately contact the driver to know the reason for stopping the truck. This will ensure the protection of goods as well as your driver.
It is advised to install reliable dash cameras inside the trucks to have complete control over fleet operations and driver's performance. With an advanced dashcam, you can ensure the protection of goods from both thieves and disloyal drivers as it shows both inside and outside of the truck.
Furthermore, you need to keep an eye on the driving performance of your drivers i.e whether they are driving safely or ruthlessly. The driver management system lets you quickly evaluate the cause of violations and prevent any future accidents. With detailed information on each driver's travel route, you can understand when and why a driver is not keeping up with the safety standards.
Time-Saving
The system can help save precious time for your drivers and managers through its features. You can make the driver management process easier through automation. You can allot the bookings to different drivers digitally. Manual and paperwork get eliminated with digital driver management software. You can see who is idle so you can get bookings accordingly.
Drivers queries related to any booking can be resolved with ease with this automatic software. You can see the mileage, pickup point, destination point, any particular safety standard, and much more than a driver must know about before getting started with the booking.
This system updates the records in real-time which means you don't have to stay in touch with your driver for timely updates. If a truck is moving on time, then the driver is doing a great job.
And, if there is any halt in the journey, you should be alert and call the driver for the journey status. When you have timely updates about the journey, there is no time wastage and you can take quick actions whenever needed.
In short, a management system ensures timely and quick communication for efficient workflow. Timely deliveries will also level up customer satisfaction, creating more business opportunities for you.
Helpful For Business Scale
A truck driver management system is very helpful in business growth. If any business wants to grow, then it should not just focus on the cost-cutting but also the quality of the services. This software does the same.
When you have complete information about your driver's performance, and booking status, the quality of your services will get improved. When you offer quality to your service – affordable prices, timely deliveries, delivery of goods in pristine condition, your customers will appreciate your company. This results in mouths of word marketing. You will get more referrals and recurring bookings from the existing customers.
By deploying a modern driver management system, you are ensuring workflow efficiency, cost optimization, and improved service quality. This is what every business wants for his/her company. When you see the outcome in your business after using this advanced software, you will also suggest it to other transport companies.
You don't have to hire separate employees to track the booking, handle driver grievances, and other on-route hassles as this software will manage automatically. You just have to sit back and look at how telematics data gets updated in seconds. Thanks to the advanced technologies for making the operations smoother than ever.
Enhance Customer Services
Now, you have a simplified way to improve your customer services. The driver management system is an automated platform that allows you to manage truck and driver-related activities instantly with real-time telematics data.
When you have all the information about how the truck is moving for a particular booking, you can provide your customers with better customer services. For example, you can update them about the delivery of their consignment. The system provides you with complete order information that facilitates order delivery to the exact location at the stipulated time.
Conclusion
The driver management system offers several unique functionalities and advantages. Modern tools, technologies, and applications are impacting the transportation and logistics industry in different ways. It is a one-time investment that provides you with the flexibility to operate efficiently and safely. When it comes to ROI, you can more than you ever expected as it not just increases your profits but also your brand reputation in the industry.
It will lead to better customer retention, customer satisfaction, improved business management, and efficient workflow. In case of any queries related to the modern driver management system, contact us anytime.
Editorial Staff at Bharat Software Solutions is a team of transport management system development.