Full Truckload, also known as FTL, is a kind of shipping method in which a truck or carrier carries a single shipment.
In simple words, one truck is dedicated to one shipment(consignee) only. FTL truckload service has many benefits than LTL or Less than full truckload services.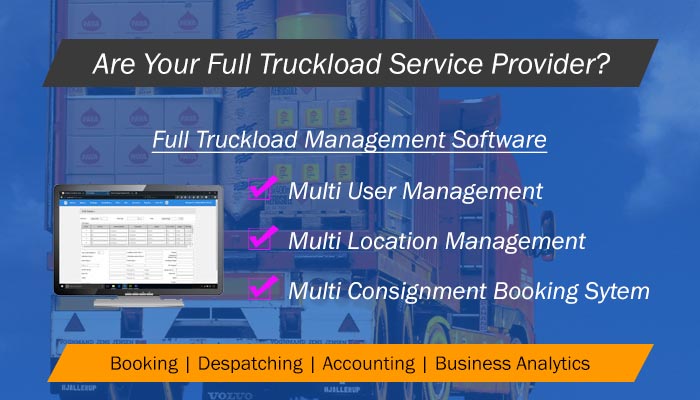 Here are some of the plus points of opting for Full Truckload Services:
Less Risky: Full Truckload is considered less risky than another mode of freight transportation because of zero transshipment along its journey. Usually, the marginal risk is estimated from the time a carrier consumes to reach the destination point. FTL, therefore, has lesser risk as it depends on express shipments.
Quick Delivery: As Full truckload services are dedicated for one shipment only, the carrier has fewer stops during the journey. Thus, it facilitates faster delivery and makes the best freight mode for perishable goods.
Cheaper: The services is estimated on time and fuel prices. This means shippers have a cheap freight mode available.
If you are transporter and want to make more profits then you must offer cost-effective and strategic freight modes like Full Truckload Services. FTL services are beneficial for both you and your customers.
The Major Needy Industry For The FTL Services
(a) Manufacturer:
When it comes to Full Truckload Services, manufacturers fall on the top of the list. A manufacturer manufactures products in bulk to make them available to the market for consumption by the end consumers.
In order to supply those products to wholesalers, they need a robust transportation system. This is why they prefer Full truckload services so their products reach the wholesalers in the least time possible and without any damages.
Manufacturers of temperature-sensitive goods are very peculiar about the delivery time than manufacturers of white goods and non-perishable items.
This is because temperature-sensitive and perishable items get oxidized and become ineffective for consumption.
This leads to a huge loss to the manufacturer. Therefore, they look for a reliable FTL service provider who can offer safe FTL services and reduced lead time.
A simple example of this scenario is the transportation of farm produce. A farmer has to make sure that his fruits and vegetables reach the grocery market on time otherwise it will become stale and waste.
Similarly, a manufacturer of seasonal products pays high attention to FTL services because they ought to make their products available to the customers during the peak season. For example, A manufacturer makes colors and sprays for the Holi festival then he ensures that these colors and sprays reach the market during the Holi time otherwise these products would not get sold throughout the year.
(b) Supplier
A supplier is a person or company that supplies raw material or finished goods to another company.
There are different types of suppliers like B2C (business to consumer), B2B (business to business), and B2G (business to government). Suppliers play an important in the whole supply chain of merchandise. They also like Full truckload services because of the same reasons- quick delivery and higher safety.
Suppliers ensure a healthy relationship with the companies to whom they supply products by availing FTL services. The transportation mode is one of the major things that impact the service quality of a supplier. It can either make or break their reputation amongst their customers. Therefore, they look for a reliable FTL service provider.
To make you understand the importance of FTL services for suppliers, here is an example.
STR Furniture manufacturer luxurious furniture and a supplier provide it with high-quality metal accessories like handles and attachments. These accessories should be delivered to STR on time so all the production needs get duly met. Incomplete production can make the furniture company lose business, getting dissatisfaction with the supplier. Therefore, a supplier needs FTL services to meet the production company's requirements in a timely manner.
So, a smooth and on-time transportation process is needed right from the supplier's side to ensure there is no loss to them as well as the company that they are serving.
(c) Trader:
An efficient supply chain involves reliable traders. Traders are companies and agents who buy and sell different types of products that are sold to businesses, consumers, and governments. Usually, traders purchase a range of goods, maintain stock, and deliver them to the customers.
Here also the delivery of products is crucial to earning more. A trader can sell products to consumers directly or indirectly through wholesalers. In both cases, he should have enough stock so he can meet the requirements of his clients and a strong freight mode that can deliver the items to the recipient on time.
Here is an example; ABC is a trader who provides coffee to wholesalers, restaurants, and cafes. Now, in order to sell coffee to different parties, he should have an organized logistics system so parties can receive the delivery of coffee without any delays. This is why FTL services prove beneficial to traders.
A trader works trades with both wholesalers and retailers so his main focus is always on safe and timely delivery. By availing of FTL services, he can shed off his tension of freight's delay and protection.
(d) Wholesaler/Distributor:
Wholesalers are crucial parts of a supply chain. The primary role of a wholesaler is to enhance the efficiency of a supply chain. They help manufacturers and traders reach the end consumers more effectively.
Subsequently, they help traders manage their assets efficiently. They also provide benefits to distributors because they allow them to buy goods in small quantities.
Thus a wholesaler needs FTL services because he sells goods in both bulks as well as small quantities. Retailers and distributors who buy goods in bulk and want delivery in a faraway location then wholesaler needs FTL services to complete the order.
For example, XYZ is a confectionary retailer in Haryana and orders snack items in bulk from a wholesaler in New Delhi. In this case, the wholesaler will choose FTL services to deliver the bulk snack order to the retailer in the least turnaround time.
So, these are the industries that need FTL services on a priority basis to run their businesses. We have tried our best to make you understand the need for FTL services by different industries with examples.
Now let us understand how to manage FTL services to get more customer satisfaction as well as profits.
How to Manage Full Truckload Service?
Managing the full truckload services can be challenging in present market conditions. Being a logistics company, you definitely want to attain a higher client satisfaction level, enhance performance, and make profits. You can manage FTL services by following best practices.
1. Have More Carrier Options: The key to getting more opportunities when it comes to freight capacity is having reliable and high-performance carriers. It is more likely to find carriers as per your freight requirements when there are multiple carriers available to choose from.
Ensure that you have a network of carriers for your company as well as your partners who can give you many national and local FTL bookings.
2. Better Lead Time: Lead time is one of the very important aspects of your truckload freight. You must ensure that you have less lead time for FTL services because it will increase business opportunities.
If you take more time to deliver freight to the destination then it may prevent you to outpace your competitors. It may lose great business due to longer lead times. So, ensure more bookings and increased cash flow by offering better FTL lead times to your clients.
3. Full Truckload Management System: It is very hard to manage and optimize consignment transportation without a custom-made and practical transport management system.
Having a high-performance full truckload Software provides you with immense opportunities to observe and analyze previous and current freights as well as schedule future shipments. Your full truckload freight can be managed end-to-end with Bharat Software Solutions.
Using this tool, you can do a lot of things seamlessly, including finding carriers in your region, schedule shipments, maintain data, track freight, and identify gaps in your process.
It not only helps in managing your FTL services but also improve overall operational performance in your business.
Editorial Staff at Bharat Software Solutions is a team of transport management system development.