Transport Management Software
With the help of the transport management software, the user can handle all the transport operations easily, aiding in the growth and development of the transport business. The professional software provider has developed cutting edge solutions with the main goal to simplify the management tasks for business owners and managers.
The young Bharat Software Solutions is India's leading TMS System provider, dedicated to developing customized transport management software solutions to meet the growing and changing requirements of the logistics industry.
The expert software developers offer the state of the art software and accompanying services to various business entities in the transportation industry that would help them move from manually operated and managed business processes to automated and efficient workflows.
After getting deep insights into the business and its related operations, the expert software provider designs the modern technology that is in sync with the needs and requirements of the business and helps to streamline all the business operations without any hassle to the user.
This one of kind transport management system is a handy asset for the vehicle owner to ensure a 100% optimal use of vehicles.
Accounting assists the user to manage banking and internal transaction.
A unique tracking id ensures the security of freight and systematic tracking. The number can be used by clients to monitor the movement and delivery time of the cargo.
This one of kind transport management system is a handy asset for the vehicle owner to ensure a 100% optimal use of vehicles.
We have developed this software particularly for handling your employees' salaries, bonuses, TDS, ESI, EPF, and other related aspects.
We understand how crucial data security is for any business. On one hand, technology is making people's lives easier while on the other hand, it is posing risk to them.
Business Management Solutions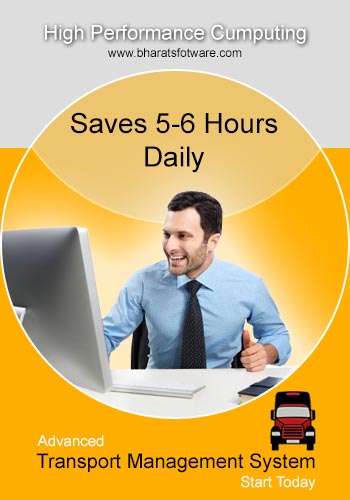 Digitization is the most elementary step in business expansion as it helps to put everything in defined categories for smooth functioning.
Once the basic functionalities such as transportation of the goods are in place and well taken care of by an adequate system, the base of your business is concrete. 
With our extensive transport business software ranging from logistics management, fleet management to inventory management, we are your one-stop-shop for all your transport management needs and its other branches.
We also offer professional services for invoicing, payroll system, business analysis, etc. to help you handle your business operations easily, aiding in the growth and development of your business.
Small aspects compound to a bigger design in your brands' future.
Services Since 12th Years
Transport Management Software has become a need of the hour for the logistics and transportation industry. The practicality and user-friendliness of software are some qualities that have made it so famous.
Bharat Software Solutions has managed to get its name listed as the best transport software in Delhi. The reason behind this success is the dedication to give value to all customers through their smart management solutions.
Our team of professionals is highly experienced in the domain of transportation and logistics; their experience assists them in the development of feature-rich transport software for easy online management of logistics and supply chain operations.  
We give facility to our customers to customize their system as per their requirements, which make us their top choice when it comes to investing in digital  management system.
We prioritize our clients before anything else which serves as a major reason for our success in the industry.
Achievements That We Are Proud of
Yes. Our transport management software has an exclusive feature of accounts management. This means you can handle all accounting related tasks using this software. Generating invoices for customers, filing GST, accessing information about due & received payments from clients can be done with ease with the help of this automated accounting management system.
In addition to this, you don't have to do any manual calculations that further ensure you of error-free calculations. You can rely on the accounts data generated by this software; it streamlines accounts auditing tasks. By conducting periodic accounts auditing, you can monitor your business costs and optimize them accordingly
Yes, definitely. A small transporter can also take advantage of this latest transport management system. We have created this software keeping in mind the requirements of transporters of all levels. The best part of our transport software is that you can get it customized as per your needs. For instance, if you run a small-scale transport business and have only one branch then you can skip the branch management feature. And, if you plan to scale up your business then you can get it added to your system.
It doesn't matter whether you're operating on a small level or big, effective transport management is necessary to maintain your efficiency and profitability.
Yes, we do. When you invest in our transport management software, we will assist you in understanding its working. We provide training to each and every customer so they can make the best use of our software for their business improvement. Our training session is highly interactive and you can put up your questions freely, and we promise to answer each of your questions will full dedication. We have fully skilled professionals who will guide you on how to use BSS transport management software. Even after finishing your training, if you feel stuck anywhere while using this software, we're always available to assist you.