Transport Management Software
A transport management software (TMS), in general, is a logistics platform that utilizes the technology for helping ventures in business planning, execution, and optimization of the physical motion of goods (both incoming and outgoing) which ensures that shipment is adaptable, the proper documentation is also available.
This sort of system is quite often a part of a wider supply chain management system (CMS).
It is quite often called transport management software, a TMS that can offer visibility when it comes to day-to-day transportation services, trade adherence details, and perfect documentation, which will ensure amazing on-time delivery of freight and goods.
Additionally, transport software can also sleek the shipping procedures and might make it easier for the businesses to manage and enhance the operations of transportation, no matter they are via land, air, or sea.
Thus, this system is quite a necessity for almost every business.
Accounting Software For Trucking Companies
Some industries, such as the trucking industry, require specialized solutions, which can do away with standard accounting software.
When it comes to accounting, trucking companies have specialized requirements. Their responsibilities go beyond the management of their books, billing and invoicing clients, and managing equipment depreciation, as they must maintain inventory, heavy machinery, and extensive travel for their drivers.
Furthermore, these systems will have additional features that will be specific to transportation, such as freight, per-mile, reservations, and dispatch, as well as mobile solutions to enhance communication between driver and dispatcher.
Accounting software for trucking companies can pose a challenge. Your company needs a solution that fulfills the needs of your staff but is also easy for them to learn.
Industry-specific software requires a sizable financial investment-so choosing it correctly the first time is essential. As well as the time your staff will spend training, it requires a sizable monetary expenditure.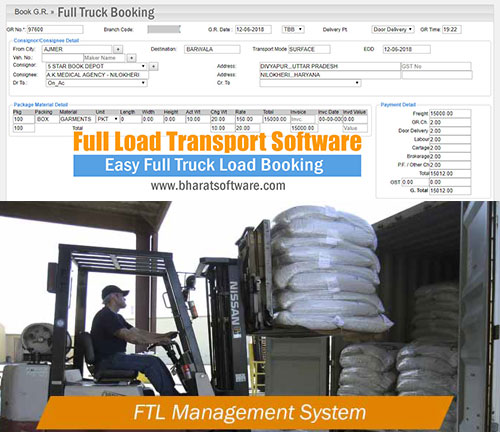 Full Truckload as justified with the name is opted by several shippers for the transportation of sensitive goods, delivering hastily, sending hefty equipment, and sending the goods while keeping the security considerations.
It can be witnessed that in the full truckload services mode of shipment, the journey varies from the source towards a certain specific destination without any halt or stoppage.
While on the other hand, part truckload services is the shipment mode, where several shippers will share a sole truck for transporting their goods or freight. It empowers the carriers to pay the amount for only the space being used for the required shipment.
While talking about packing and moving services management, GPS and tracking are some of the best and crucial features that can just spring to mind.
In the fact, there is a belief that any industry cannot operate productively with efficacy without any such system in place as the entire model is dependent on the delivery of goods from one place to another within rigid and strict timelines.
Several tracking apps are offered with built-in GPS location monitoring abilities, packing and moving ventures comprise a smart method of aligning their ventures goals with their customers.
There exists a common fact that carriers might work directly with shippers. The search for customers is challenging with lots of time and money and can be the most difficult aspect for start-ups.
As in the case of shippers, they need not concern over choosing a carrier that can meet their budget and time issues, upholding the reliability, and staying in touch till the points of goods reaching the right person. Both the parties prefer to grip a freight broker as an intermediary person.
When we talk of a supply chain, a freight broker joins the shippers and carriers, facilitating principled and proper interaction between them. 
Truck service provider can significantly improve the experience of the customers, profits in the deliveries, and offering high-quality service.
Nowadays, modern customers expect nothing less than on-time, safe, and secure deliveries every moment. To keep the same step with the increasing demands of customers, the logistic companies are supposed to quickly focus on offering their customers with improved and high-quality delivery experience in a constant way.
If you are having the perfect truck services management, then it is the right time to step to ensure on-time delivery.
In the present era, even though some very small changes can be implemented to optimize the work of the warehouse of your business that can be of high value in the big picture. Warehouse management is, in general, carried carefully with the help of a perfect warehouse management system or WMS.
It is also a part of logistics management, WMS is immensely designed for the management, control, and optimization of every procedure in a warehouse, starting from receiving and storing up the good till the last point of billing and creation of the reports.
Inventory Management is one of the most essential steps in the network of the supply chains. Within here, the inventory and stock quantities can be easily tracked in and out of the warehouse.
The motive of carrying out this inventory management procedure is to have all the necessary information about the inventory whereabouts at any particular point in time and getting a crystal clear picture of the quantities that are supposed to be managing the inventory levels precisely.
A very clear sense of inventory management procedure can help a business for pursuing longevity and future. When the inventory is perfectly organized, it will ultimately set the supply chain in place. Keeping a manual track and listing everything might be a little challenging quite often.
One of the most crucial aspects of every business is its logistics management system. In this constantly advancing world, supply chains are becoming more flexible, productive, and competitive than at any time possible, thanks to top-class logistics-based technologies.
The proper and increased use of dedicated and efficient software for logistics in some of the past few months has led to the doubling of the global supply chains in this post-pandemic world which is now having a lot more to offer.
Starting with the automatic scheduling, geofencing, real-time tracking abilities to the AI-powered intelligent solutions for smart warehousing, analytics, or the last-mile delivery, these applications of the technology in the logistics industry are becoming troublesome.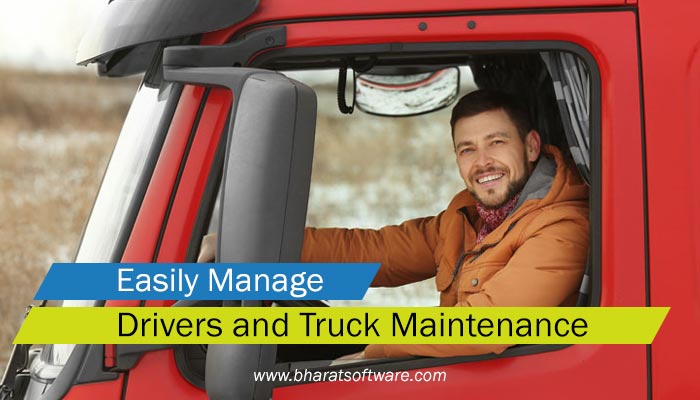 Controlling and detailed monitoring of the behavior of drivers is a part of managing the venture. When one can analyze and understand the way the drivers are using the vehicles daily is a very crucial factor that can affect the decision making, starting from the choice of the vehicle to the training of the driver.
Thus, the question arises that what can be the right way of managing the drivers, and can these drivers make such a big impact on the performance of the organization? The answer is very simple!
There are several advanced driver and truck trip management solutions for the challenges of the business for maximizing the performance, appreciating the drivers those having good driving skills and are minimizing the risk. 
Several businesses tend to spend a huge amount of time, effort, and money in getting the best-qualified resource.
However, getting off this great source is just one step, efficiently making the use of another crucial one! This is where the urge to get great resource management solutions can prove its importance.
This system generally has some smart features that are certainly developed based on the feedback of the industry that can ensure that the organizations are getting the best of their resources.
Online Transport Booking System
Businesses that offer tours and activities can now benefit from online booking systems.
With the technology and old-fashioned customer service, your business has an exciting edge that helps fill activities and sell services.
For many people, their workday is too busy to book a room while they're on the phone, so most telephone booking systems rely on customers calling in during office hours. Then there's the fact that only one caller can book at a time unless you operate multiple phone lines (which then means that more staff is needed).
By doing this, you will be freeing up both your time and possibly finding new revenue streams.
When you incorporate an online transport booking system, you can require your customers to prepay for their activities and rentals. By doing so, you get your money faster and you don't have to worry about payment on the day of the event, giving you and your customers more time to enjoy the event.
Among the main advantages of online transport booking systems is that they allow customers to reserve at their convenience. The convenience of online booking allows customers to book at any time of the day or night, regardless of whether it is during business hours.
When you think about it, customers are more likely to make a hotel reservation in the evening, because they have more leisure time to browse the internet at their leisure versus when they are at work.
You will not be charged anything unless there's a catch. Using the online booking process is simple and you will get a complete overview of the entire procedure.
Transport Billing Software
Many hours and money were wasted trying to fill out the gaps or prepare bills in the early days of the transport industry. Even in the billing of the transport industry, there have been a few advances, which is to be welcomed. Innumerable benefits can be derived from transport billing software, including:
E-invoicing, auditing, and processing have all been made possible by Transportation Billing Software. Invoices should be compared to the original shipment rate by the TBS when they are received. When the sums are equal, the system can process a customer bill and approve the payment. The accounting department can then focus solely on exceptions, and the accounting process is simplified.
The tracking system provides real-time information about shipments. An organization can receive alerts when a shipment is delayed or delivered late. A service disruption can be noticed immediately so that adjustments can be made. Businesses benefit from being able to detect them. Using tracking information as well as creating efficient route scheduling is another benefit of tracking information.
Among the main advantages of online booking systems is that they allow customers to reserve at their convenience. The convenience of online booking allows customers to book at any time of the day or night, regardless of whether it is during business hours.
When you think about it, customers are more likely to make a hotel reservation in the evening, because they have more leisure time to browse the internet at their leisure versus when they are at work.
To minimize per-unit transportation costs and to increase distribution coverage, vehicle directions and distances must be planned. In this case, it is the information section of a company that will provide the routes' lengths, loading and unloading facilities, and the amount of time required for a certain type of vehicle to reach the location.
To ensure the quality of the goods being transported, it is essential to determine the type of vehicle the vehicle will carry in advance.
Transport is a major component of logistics costs. Proper planning and the use of adequate resources will help the company reduce shipping costs greatly if it has an efficient transportation management system.
Each logistics consignment needs to be analyzed from a financial perspective by the transportation management system. By getting user-based suggestions, it should be possible to reduce charges such as fuel expenditures or overtime rates for drivers.
Through the TBS, a variety of data can be collected and made accessible knowledge that is useful throughout the organization. It is also possible to create custom reports that analyze things like rate discrepancies or on-time delivery performance.
Standard reports are used to track KPI's; custom reports for analyzing things like delivery performance. When data is used to assess why results might differ from expectations or how positive outcomes may be developed further.
Freight Management Software
As used here, "freight software" refers to any program that helps a business determine which freight method is the most efficient.
3PL software, cargo software, broking, and forwarding software can be among these solutions. Inventory and warehouse management solutions can prove to be beneficial for companies that move lots of freight.
With integrated software, you can control and manage air, sea, and land freight, warehouses, transport, customs, and integrate them with customer relations management, billing, and financial accounting, and all from any device and anywhere.
Systems for freight management, also known as logistics management systems, are robust platforms that provide detailed information on the provision and management of shipping services.
An LTL or FLT service can be made up of many modes, including multimodal, intermodal, and even parcel services. The FMS takes care of all delivery services, including ground and express.
Software solutions for freight management are typically hosted on cloud servers. By using the cloud, users do not have to download and install software on their own computers.
Users are able to access the FMS through desktop, laptop, mobile, or tablet devices via cloud-based solutions.
Recent years have seen a rise in smartphone users receiving push notifications in real-time from the system. From the dashboard, you can access all reports on a single screen. You can also access search functions, applications, and additional tools from this screen as well.
Transport Software Provider in Delhi
With over 13 years of experience in the field, Bharat Software Solutions(BSS) is among the leading transport management system provider in Delhi and across India. By holding ISO certifications, you can be assured that the company's management systems are of the highest quality.
The company is one that develops highly practical software based on new version 2021 to redefine logistics and transport work strategies.
Multiple user-friendly and premium management software for a variety of industries has been developed by BSS since its inception. Bharat Software Solutions provides useful products and value-added services to a number of business entities in the transportation sector that will assist them in automating their manual processes.
BSS supports every transportation firm, no matter how big or small, in optimizing their daily operations.
The software we create allows business owners to oversee everything digitally. With all process management done in real-time and without manual effort, you will definitely notice the difference in quality.
The profits would increase, the costs would go down, and the wastages would decrease.
Achievements That We Are Proud of
The work operations of the transport industry are challenging and complex. Many operations are to be properly executed and streamlined for efficient and effective carrying out the process in the transport industry.
To overcome the challenges of the transport industry one must incorporate customized and automated transport software that streamlines the logistics operations and provides the bird's eye view of all the work operations in a click to the user.
Most of the logistics owners have realized the importance of having good and cutting-edge business solution for carrying out their transport operations in a seamless manner.
The foremost information which tops the transport industry related searching is the management solutions.
The business owners search for affordable, easy to use and customized logistics solutions that will help streamline their services operations and pave the way for its success and growth.
Download Transport Management Software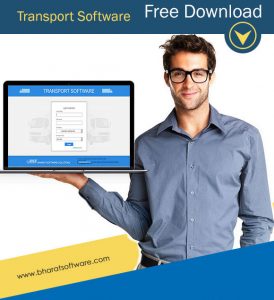 Everything that comes free is not reliable and functional.
There are many business application that is available online for free download but this will not fully support your organization.
It is therefore advisable to buy software from a reliable brand and a renowned software development company. This helps you to choose software that fits your business needs and requirements.
The modern transport system develop automated, cutting-edge, and customized business solutions that will help to streamline their operations.
It is therefore advisable to avoid the spam transport software free downloaded and compromise on the efficiency and effectiveness of working of your management.
Transport Software Free Demo
If you have made up your mind to install the automated and tailor-made solutions then you should go for the transport software Demo.
A software demo is a core part of any management system company's marketing and sales materials. These videos are used to help the potential users quickly understand the features and benefits of the software and also help the new users to learn how to use the software system without beating around the interface they are not familiar with.
The software Demo explains why the software is out-of-the-box and also lets the user know how they can get the most of it. This will help you choose the right software in sync with your requirements and needs.
It is a virtual walkthrough or demonstration of the application. The software overview is a guide of the product and is much more engaging and captivating.
By seeing the demo you can understand whether the software caters to the needs and requirements of your road transportaion business operations.
Before you pick the best management system from the list of  transport management software provider in India, it is important to analyze their price in ratio to their offerings.
You should discuss with the  service provider, its benefits for your business, its user-friendliness, and how it will ease and streamline your business operations.
Keeping all the aforesaid aspects in mind, you should discuss the transport software price and make sure that the price quoted is competitive and comes well within your budget.
Transport Software Trial Version
Unless one tries and tests a particular thing on their own, they might not realize its real worth. Here comes the role of the transport software trial version to play. The software mode allows the user to use the software for a certain period.
Using trial version one can know the efficiency of the software, its features, whether it best fits your needs, user-friendliness, and much more that will affect your decision. You can find out whether the goods movement management system is the best fit to meet the challenges of the transport industry.
The trial version will help you understand whether the software is in sync with your needs and whether you should buy it or not. The Bharat Software Solutions offers a trial version that will help you understand its features and functionalities before you invest in it. It allows you hands-on experience and an understanding of how the software will benefit your business.
TMS System with Excel Features
Excel is a multi-tasking application. Managing transport business takes lots of time. Consignment, truck, warehouse/Godown, inventory, payroll, and business analytics need a proper management system and manual management of all these takes time and also does not guarantee an error-free management system. It is therefore important to sync the advanced management with Excel for effective management of the transport business.
Many software services provider in India is integrated with Excel. Since its inception, Excel spreadsheets have remained one of the most widely used management tools in areas ranging from accounting to purchasing, logistics, or transportation.
With transport software, the user can get real-time information about various heads. They can take a printout of the books or digital books to forward to the third party or for the record.