Transport Management Software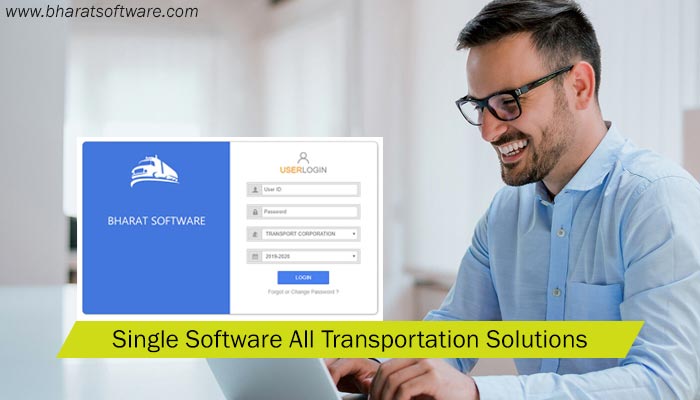 Digitization is the norm today and almost every system is now synchronized through digital means to keep it systematic. The transport management software is no different as it aims at completely digitizing the process of the transportation sector to keep it orderly and transparent with no scope of any fraud. It helps make it much easier for business owners to save valuable time and effort.
The software facilitates every aspect of the transport system at just the tap of a click on your phone or computer, right from the start to finish. Be it the loading and unloading of your goods or the record of all the costs involved, smooth monitoring of timely movement of your freight from one destination to the finish point, the transport management software takes care of it everything.
Just the number of calls, it reduces that otherwise have to be coordinated for, relieves the majority of the stress. As industries and entrepreneurs increasingly seek time saving and cost-effective mechanisms for different services, the software comes in real handy.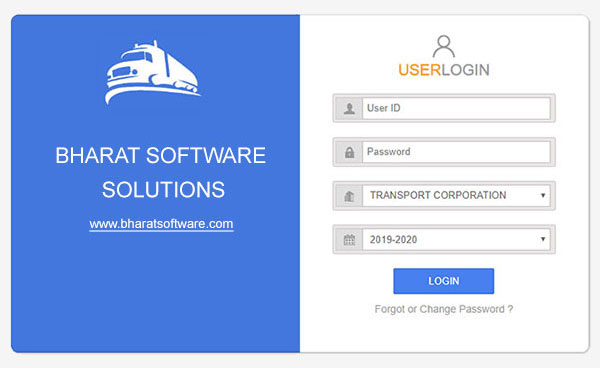 Transport Management Software
Transportation Business Solutions
Transporter Business Solutions
Digitization is the most elementary step in business expansion as it helps to put everything in defined categories for smooth functioning. Once the basic functionalities such as transportation of the goods are in place and well taken care of by an adequate system, the base of your business is concrete. With our extensive transport business software ranging from logistics management, fleet management to inventory management, we are your one-stop-shop for all your transport management needs and its other branches.
We also offer professional services for invoicing, payroll system, business analysis, etc. to help you handle your business operations easily, aiding in the growth and development of your business. Small aspects compound to a bigger design in your brands' future.
The Fleet management system assists vehicle owner or agent in maintaining optimal use of their work  from a central platform.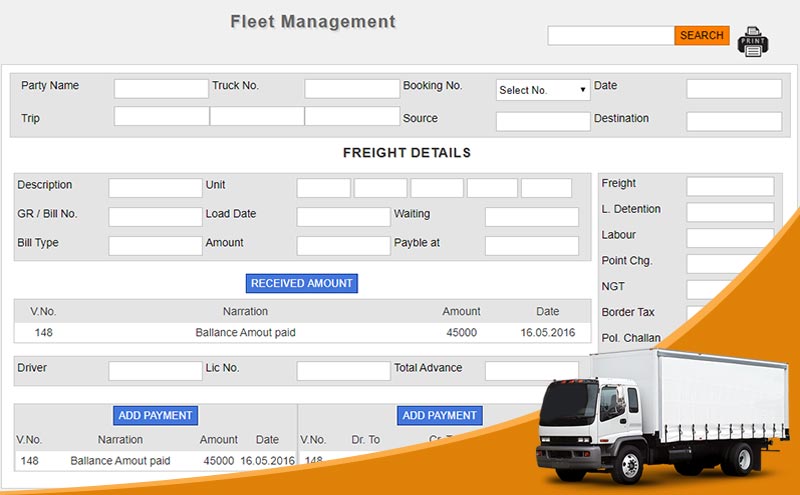 The transport accounting software is a must for every business enterprise and with the transport business segment, it becomes tedious to handle the tit-bits of cost monitoring and accounting management. Keeping proper and updated records of all costs and expenses and tracking as well as auditing the accounting figures from time to time is a must to stay on the right track in business. 
Our transport accounting software is advanced and in consideration to encompass all chief aspects to provide a hassle-free service to our clients. We include professional management of payment receipt, balance sheet, trial balance, GST filling, GST compliant invoice management, accounts receivable, and accounts payable among other aspects.

Consignment tracking, though may seem like a fairly straightforward task but it is crucial and a rather tedious procedure if done manually. Taking care of aspects like starting time of loading the cargo, the route is taken, handling of the goods, costs involved and any other obstacles or roadblocks coming in between, can be a handful for any person or team. 
With the digitization of the consignment tracking on our software, it makes it all very simple and easy as well as transparent to be handled at ease by the authorized personnel. A unique tracking id ensures the security of freight and systematic tracking. The number can be used by clients to monitor the movement and delivery time of the cargo. GPS allows them to view the vehicle speed, engine start and stop points, idling, or any detours taken to assist in the smooth running of logistics and transportation.
The business expansion comes along the management of different branches opened in different locations. Just how amazing it would be if the business owner can easily manage the branches at a single consolidated platform at just the click of a button.
Even though it cannot eliminate the need for a physical visit or manual coordination but it can take care of some of the most important aspects. These include consignment booking details, check wise consignment stock reports, branch wise dispatching details, checking of the fleet status of all branches, and administration of all banking transactions in a clear manner to keep the business owners' mind at ease.
As employees form an integral part of any organization, it is important to have a sound payroll system in place. Our software provides the perfect payroll management system, designed exclusively for businesses to handle their employee's salaries and other aspects in an effective yet simple way. 
The Payroll System easily handles features like employees' salaries, wages, annual or quarterly bonuses, net pay or deductions, TDS processing, EPF Act, ESI Act, end to end payroll as well as employee self-service processes. It helps maintain an organized record, appropriate and timely handling of all these vital aspects for catering to your valuable employee base well.
Data theft or cyber fraud pose a major challenge in today's fast-paced times and leave the business data at a serious risk from hackers and fraudsters looking for a loophole to take advantage of. We offer digital and highly secured business data handling for the security of our clients' business information to be given the highest priority.
User end back system, unmetered disk space and bandwidth, email services, Intel E3-1271v3, 3.60 GHz Quad Core w/HT, and 28 GB DDR3 RAM are some of the keys features our software encompasses to offer the safest and secure services to our clients.
Another significant part of any business is to have the perfect client management system in place to keep things orderly. TMS system provides an adequate client management service with single click Customer (Party/ Vehicle) details at one place, price-master for clients, auto SMS/ email facility for booking, dispatch, and invoice, customized invoice format as per party requirement, attachment for the driver, vehicle documents, etc. such as driver photograph, RC, fitness certificate. These make client management tasks a lot easier and much more efficiently accomplished affordably.
While any good quality software is in itself enough to automate the entire transportation process, a customized software designed perfectly to keep in mind the different aspects of a particular business enterprise can prove to be highly beneficial in fulfilling the objectives of the operational functions. Planning the entire process, monitoring all its aspects from time to time, and measuring the key performance indicators are some of the advantages that the customized software allows for. Moreover, automated software that is sensitive to the needs of the business will help the logistic companies to manage freight transportation effectively.
While most of the features in a business segment remain the same, the processes and some aspects remain unique to every business and that is well accounted for in a specially designed software function for the specific business needs.
Transport Management Software Delhi, India
It takes more than just words to stand out in any field and in transport management solutions, in particular, delivering on your promises through world-class service and premium quality software is what identifies a brand as a key player in the market. Bharat Software Solutions is the best transport software company in Delhi. Being a renowned and well-established name in the market, its goodwill and trustworthy delivery stories speak volumes about its commitment to quality and service timelines. Getting your hands on the perfect TMS solutions can often be a challenging task and so, the reputation of a brand in the market becomes a major deciding factor apart from its services and deliverables.  
Bharat Software Solutions helps you acquire the best of professional services from the best transport software company in India, precisely suitable for your business structure and operations. You can pick and choose from a wide range of offerings we have and leave the rest to our competent team of professionals. We ensure that once we develop an understanding with the client in place, we strategize and execute with minimal assistance required from the client to let them be free and fairly assured of their operations.
Our software solutions are gradually updated with the changing trends and tech advancements to provide the best experience to our clients at all times. Right from the start to finish of management and monitoring of your goods, transport, and other aspects, we have got it all covered. 
Achievements That We Are Proud of
Customized and user-friendly online transport  software enable the logistics business to get clear gist of various components of the supply chain which includes, drivers, inventory, payment, warehouse, etc and enable them to make accurate and good decisions. The management can do real-time monitoring and managing freight activity.
The logistics managers can ensure proper measurement and management of freight payment and pre-audit details to gain a clear understanding of the characteristics of each shipment. The logistics firm can synchronize all the vital points of the supply chain easily and ensure that the goods are delivered in time. The software improves the efficiency of the warehouse, minimizes overall lead time, enables easy tracking of deliveries and improves customer service.
Customized transport software helps in streamlining the business by effectively managing and optimizing the entire process. Automated software helps the management to facilitate route planning and minimize the time of delivery. The software synchronizes the communication and data reporting.
Efficient road transport software makes the work of the management easier as it is multi-functional and thus allows diverse data processing. It has in-built tailor-made solutions that improve the transportation management and logistics process. The comprehensive logistics management software ensures fast and efficient delivery of goods to the clients.
It provides the logistics company with cutting edge benefits such as efficient supply chains and inventory management; streamlines the transport-related activities and automates the transport-related process.
As the era of digitalization has begun; the future of business operation will be paperless. Almost all the companies have started storing their vital data in the digital form using various software, online tools, and software, thus giving rise to the paperless era. The transport sector also has started incorporating state of the art the system to carry all their logistics process effectively.
Effective implementation of online software enables the automation of all the accounts. This, in turn, means less time is spent on paperwork. All the amounts that are quoted online in the system can be easily carried forward to an invoice with ease. This minimizes any sort of flaws or errors in the billing. In other words, the software does away with the incorrect billing and ensures minimum or less use of paper.