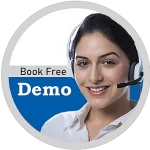 Transport Management Software
Are you having trouble gaining insight into Goods Movement Services? The BTMS System – a digital logistics platform used by firms to control the movement of consignment and make strategic adjustments for the company – is one secret weapon that can help with your transparency problem.
The Logistics and transport industry are still dependent on legacy solutions that aren't equipped to handle consignment delivery and logistics operations in today's competitive times. To help you with that, Bharat Transport Management System (BTMS) is the future-ready platform that automates your supply chain decisions. 
Bharat Software Solutions' (BSS) transport management software adds intelligence to your transport operation and makes a well-informed accurate decision to delight your clients.
Proactive transport decision-making is the need of the hour. BSS' research-led innovation will enable transporters of today and tomorrow to take data-backed decisions at crunch moments instead of depending on other opinions. Our AI-led model is the best transport management software provider in India and is rooted in reality.
The TMS Software is a comprehensively designed platform that accounts for all modes, locations, and movements so you can focus on optimizing the drivers, freight, consignment booking, and other stakeholders involved in the day-to-day operations.
The Full Truckload Transport Software is capable to manage full truckload dispatching operation. The Full Truckload Software assist the logistics and transporter to manage all kind of business task such as booking, warehouse, dispatching, trucking, purchoon booking, accounting, and business analytics.
The automated Part Truckload System helps in managing and streamlining the multi-port delivery process, from having an option to book shipments to maintaining data of stocks at various go-downs to optimizing the truckloads on fixed routes. The purchoon software feature makes a key difference in minimizing the operational costs and maximizing the returns.
Packers and Movers Software
A packers and movers business face issues like lack of communication, complex tracking system, improper time management, damaged goods, foul warehousing facilities, and many other problems. And, the most difficult part is tracking down everything from order to delivery.
With our Packers and Movers Software, you can take your moving business to the next level. From various addresses, scheduling information, estimations, and more, the application successfully manages and tracks everything about your move jobs. Furthermore, they may give precise moving inventory to their clients via a strong and powerful booking interface that can be integrated.
The business of a freight broker is very hectic, and he on a day-to-day basis deals with many shippers and service provider. It isn't feasible for a freight broker to manually manage the entire transport operations.
The answer lies in our automated Brokerage transport software that helps them manage their business seamlessly and effectively. It has tools like load monitoring and vehicle tracking that give ideal visibility to the broker to manage their loads.
Fleet Management Software
Now whether you're an organization that has a truck size of 10 or 10,000, the unparalleled fleet management software is the one-stop-shop to manage your fleet. Some of the features include – vehicle reports, booking, loading management, dispatching, driver settlement sheet, vehicle trip closing system, real-time tracking, hassle-free vehicle management.
Logistics Management Software
Most logistics find it difficult to get their act together during seasons of peak demand. The erratic behavior of the delivery system, Lag-induced inventory knowledge, delayed invoicing and response, etc. tend to affect the company from performing up to its full potential.
An logistics management application is capable to deal with a variety of tasks from order to delivery, stock to inventory, ERP, and e-commerce integration.
Warehouse Management Software
The Warehouse Management System gives configurable Supply Chain processes required by organizations to deliver better client support and control operational expenses. The solutions based on our Service-Oriented frameworks offer full integration to sales, purchasing, and other 3rd party systems.
Inventory Management Software
An Inventory Management system organizes all the different products any store owns, providing data about particular items to customers and managers of the organization. Inventory Management Software is just a method for organizing product data efficiently to provide insights about it. 
For individuals worried about finding a stellar company that delivers web development service Pan Asia, Bharat Software Solutions is here for you. 
According to Gartner, BSS, for three years in a row since 2018 has been emerged as a leading web development agency in India promising an unrivaled website design and development service for logistics and transport industry.
Get ready to witness your business scale with incredible speed with the professional website running successfully developed and planned by none other than New Delhi-based Bharat Software Solutions.
Online Transport Booking Software
In the logistics and transport business, the online transport booking software is the latest disruption that helps the user to scale business amid pandemic crises. 
Most freight forwarding industry can now reach a wider audience thanks to the technological advancement in the supply chain sector.
Goods transportation is critical since it helps with the smooth distribution and delivery of goods. There are numerous benefits to using online transport booking system –
One of the highlights of the online transport software is both the truck proprietor and the clients can now follow their freight progressively.
In contrast with conventional techniques, the whole logistics operation is more efficient with transport booking services. There is no space for the blunder, and there aren't mere chances of missing any crucial data. All of these aspects contribute to the prompt generation of invoices and receipts.
The client gets a prompt quote for the recruited truck. There will be no hidden expenses; instead, the client will be charged dependent on the vehicle and load during the online booking procedure.
Looking For Hire Transport Software Development Company in India?
Bharat Software Solutions is Here To Help!
Why Transport Management System
The Transport Management System protects and saves user business. It improves the overall productivity and efficiency of business process. But, most significantly, it helps to enhance business productivity and growing in your sector.
The tracking feature allows users to evaluate the efficiency of various routes used by drivers, which can aid in the creation of a more efficient timetable. Real-time tracking also offers significant safety benefits, particularly in the event of an accident.
You may generate a myriad of data reports to monitor critical metrics affecting your organization by combining route information, transportation expenses, and other data points into one platform
Our multi-platform logistics software allows you to choose the platform you want to work on. It's available on the web via the Google Play Store, as well as a desktop program for your PC.
The TMS Software enables users to adopt pool distribution, which is a less expensive and faster delivery approach that provides more visibility and control.
Whether your company owns a fleet of equipment with a team of drivers or outsources fleet operations to a dedicated third party, the software features can help you avoid the hassle of tracking driver certifications, safety records, vehicle, and equipment maintenance, safety checks, and licensure and insurance coverage.
Our cloud-based interface offer the ability to connect all logistical stakeholders to collaborate and uncover efficiency
It will examine each logistical route's financial aspects and make user-friendly recommendations for lowering costs in key areas like fuel use and driver overtime.
Transport Accounting Software
Customer contracts and billing are crucial aspects of transportation business processes since charging appropriate transportation rates and prompt invoicing to customers puts logistics organizations in good financial shape. BSS-powered transport billing software for logistics and transport firms is completely capable of implementing various rate contracts and billing them without the need for human intervention. Some features include – 
Freight Rate Contract – Keep track of freight rate contracts, as well as other charges for specific clients in general.
Incentive and Penalty Contracts – Define the amount that will be charged to the bill or deducted from the payment daily.
Non-Freight Bill – Create a separate bill for rewards, detention, and warehousing, among other things.
Freight Bill – Bills are generated automatically based on the POD, date range, and contract
Bill Submission – create an invoice format alongside the cover letter and send it to the buyer
Pending Billing – Get a list of unbilled consignments and bill them as soon as possible.
Transport Billing Software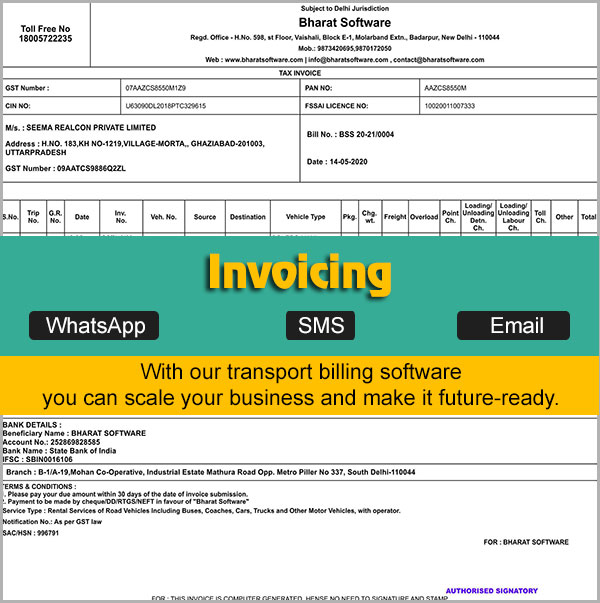 Owners of logistics and transport companies frequently juggle many time-sensitive responsibilities at the same time. These duties consume a significant amount of time and energy, which you may not always have available. If you're always in a hurry, good transport accounting software will help you get your trucking company back on track.
You can quickly produce freight billing invoices all from the convenience of your workstation or mobile device.
Payroll Scheduling Made Simple
Using automated payroll tracking and scheduling, you can ensure that your employees are paid correctly. You can even include tax deductions or overtime pay to guarantee that everyone is paid correctly each month.
Our ready-to-use invoice templates are meant to help you keep things professional. Experiment with several designs, layouts, and themes until you find the one that best suits your brand or company.
Faster Billing and Payment Request
Do you want to save even more time? Its automated features help you get paid faster. Our accounting software does all of the back-end computations for you, so you don't have to. You can also include flexible payment alternatives to ensure that every customer pays on time!