Cloud computing has been the need of current times and it has left no industry unturned. It has revolutionized all areas of the business, and it depicts the logistics sector for sure.
There's been a sea change in the way global industries operate and run their businesses, where all the major and small businesses are discarding old age technology and embracing the Cloud Computing for Transportation System anticipating the current scenario while keeping an eye on the future.
Gaining access to real-time information opens up significant opportunities for businesses to increase efficiencies, and provide value-added services to customers. It allows to Gain Access to real-time information, which offers incredible opportunities that were never imagined before. This needless to say increases the efficiencies, quality and offer value-added services to clients in so many ways. Furthermore, Call to Action improves your Supply Chain Productivity threefold.
How does cloud management solution help the Transport industry?
1. Improve Equipment and Utilization Patterns
Cloud Management Solutions also offers to set Metrics and Analyze Results against certain goals to identify trends and utilize that equipment to improve shipping and procurement efficiencies. Another advantage of Cloud Management Solution in the Transport Industry is offering a possibility where instead of several users controlling various systems, club everyone together with one cloud-based app, which will prevent delays due to any miscommunication or delay in sharing of data.
2. Access To Real-Time Pricing
Let' say you made a deal based on the information that has been available to you for the past week or month, but there's been an immediate fluctuation in the Freight Spot Rate, that could cause you heavy loss when you go ahead with the prices you signed up for. Here, the Real-Time Pricing will allow you to get instant alerts and notifications no matter where you are and make needful adjustments accordingly. This will go long way in anticipating and making your business flexible depending upon various factors such as Weather, Market Conditions, or Demand.
3. Create Accurate Merge-In-Transit Models
There's no other but you need to synchronize to coordinate several components from multiple suppliers all around the world, here, Cloud-Based Logistics Solutions plays an impeccable part in optimization and helps management continue formidable and complex easily and more efficiently, saving lots of costs.
4. Access To Real-Time Inventory
Your inventory is your direct tool through which you control risks and optimize costs, and that's where access to Real-Time Inventory comes into play. The information derived here will give access to you to maximize your ability to face and respond to demand fluctuations as you hold onto your supply against emergencies. It further benefits it helps in e-way Bill when you are in plan your logistics wherever you wish to transport.
Now the constant inventory data flow from the cloud management solution will empower you to instantly view detailed information, such as zeroing on the highest and lowest sellers, or profit margins in case. If you have access to this valuable information, you can impact your business to its peak through Sales, and improved Customer Service, as on adjustment of price or replenishment demands.
After knowing the clear picture and meaning of Business Management System, let us give the answer to the most asked question i.e. Why are the most industry Switching their Business Online?
It's Not Just Transport, but Industries All Around the Globe are switching Their Business Online!
We all have experienced the time when we are out and we googled nearby stores or coffee shops. We are constantly online and looking for information of all kinds, as we know whatever that is worth is out there! Now if you calculate the average time a person spends on the internet is not just growing yearly, but each day this number is exploding!
Now it is no rocket science if you are into business, you need to have an Online Presence, there's no way around it. It is time for you to invest in building a website and keep it updated and running since what the internet offers you is immense!
Doesn't matter what size your business is, doing Online Business will give you an identity and a platform on which you can endlessly grow. Your customers are waiting for you and all you need to do is to show up with your products and services! So here are a few reasons why industries are switching to online business from everywhere.
7 Reasons why Industries are switching to Online Business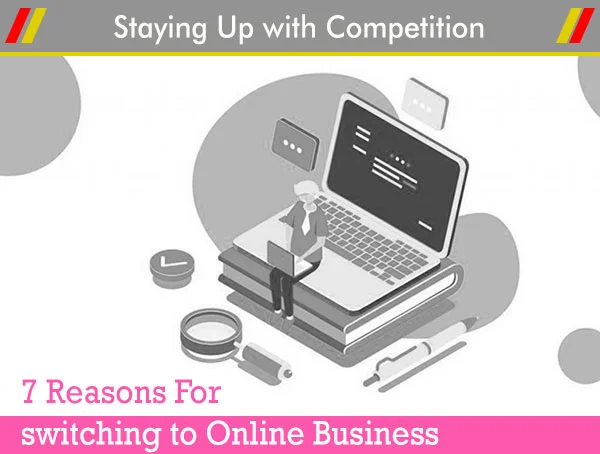 1. Staying Up with Competition
Likely, at least some, if not all, of your competitors, have an online presence. Potential customers searching for your products or services could very well end up on your competitor's website.
To keep pace with the competition in the market, you need Online Presence as like it or not there are many of your competitors who have been building a client base by maneuvering business online. Thus, to avoid your potential clients going somewhere else, you better have your strong online turf!
2. Build Trust Among Customers Globally
Having Online Business, or in other words, to be seen in the world of the Internet wins customers' trust. Not only this, you have a world of opportunities waiting for you, where a small step from your end can go a great distance. Further online Testimonials and Review add to this factor.
3. Be Where Your Customers Are
It's easy. Your Business got to be where your clients are. And that's why you need to be Present in this online world. It will not only be easier for the potential customer to reach you, but it will further help you communicate directly and without any hassle with them.
4. Manage Your Brand the Way You Want
Being Online allows you to play the game better and work on how you want to portray your brand name, and beat your competitors. You'll also get lots of ideas on enhancing and upgrading your business.
5. Be Found
Don't miss out on a great opportunity by being absent online, as most of your customers are using search engines to find what they need, that goes for all industries. It is recommended that you invest in some SEO to get more customer flow and be shown on Google Maps for that case.
6. With Your Online Presence You Can Make Greater Marketing Impact!
Having a website is almost half the work done when we talk about Digital Marketing. Making most of Social Media, Email Marketing opens up many windows helping in spreading Brand Awareness. This will majorly increase customer reach and bring down costs which you invest in traditional marketing methods.
7. Even When You Will Sleep Your Business Will Run!
Going online means that you have a business functional 24/7. If you just have a decent website, then customers can reach out to you at any time and it is one barrier that is removed, which is time.
After being inspired to take your business online, Why Manual Management is getting outdated? Human has a tendency of having to create some errors except it is being crossed checked twice or thrice.
Manual Management Usually Brings Errors That Harm Your Business and are Avoidable!
In this Digital it is almost a crime to still rely on Manual Tasks to Collect, Review and Input Data. Tasks such as copy and paste data between internal and external systems – mostly as websites, portals, enterprise applications, legacy systems, and desktop applications like Excel. Sure, these remedial, repetitive, tasks require workers to log in and out of multiple systems.
We cannot completely turn away from manual work as the Transport and Logistics Industry relies around 32% on Manual Steps in More than 50% of their process according to the latest survey.
Manual Tasks Do Hold Your Business Back!
Organizations do still are dependent on manual tasks for repetitive, mundane Performance activities and that leaves them behind the times. This impacts performance, productivity, customer satisfaction, employee satisfaction, compliance, and revenue.
It is Necessary to Automate Manual Tasks As It's Relevant in Delivering Results!
By automating regular tasks, we can increase workflow efficiencies by freeing up your staff for more valuable work, driving down costs, and boosting your revenue. Organizations that automate their processes are far more competitive, responsive, and flexible. It allows you to gain quicker insights into your business and market, which further allows you to meet customer requirements and beat the competition.
Manual Taskforce Reduces Productivity
The mundane tasks that have been given to an individual, for example Frequently Asked Questions, answered by your customer service team, if you'll have an online presence, these queries will be taken care of and the workforce can be invested in other relevant and productive tasks.
Manual Multitasking Brings down the Quality
If you are letting your employees perform multiple tasks throughout the day, and mostly it happens in small businesses, you are letting their focus go down. For example, a healthcare worker carries multiple patients' medicines on his rounds to save time and could end up administering the wrong drug to a patient. You can't imagine how costly that could be.
Manual Management Can Harm Your Business by bringing Emotion Stress in Your Employees
In today's work environment, there are lots of challenges and the last thing you want to add to the list is emotional stress. Tasks that add a little impact to their growth and in other terms robotic will naturally bring some mental stress, therefore negatively impacting the business.
Audit Issues Can Creep In with Manual Management
If you try to correct uncalled inaccurate Inventory counts, then you can imagine how much valuable time and resources will be simply wasted in fixing it. Whereas, this can be utilized in so many other ways. This can bring about frustrated customers as it can harm shipment and delivered merchandise. To handle this bag of opportunities and challenges, there's one solution, Bharat Software Solutions(BSS). It is a leading Transport Management Software developing organization that has withstood time and has proven its relevance for over 13 years to its satisfied clients. The group is a fully committed and reliable IT Software Company that employs the latest method and technology while bringing redefining Logistics and Transport Work strategies.
Bharat Software Solutions has not only been associated with major players of the market but also facilitates small transporter to embrace and blend in according to changing times. With highly qualified professionals, the core expert team offers Management solutions for Logistics, Transporter, and Freight Broker(Transport Agent), transparently.
Editorial Staff at Bharat Software Solutions is a team of transport management system development.