To grow your transport business, you need to have a digital presence. This allows you to reach out to people who are looking for your services.
A digital presence is a primary way that you can connect with prospective clients and give them an idea of what you offer. It also helps you maintain a steady stream of leads and sales opportunities.
Online digital marketing is an important part of today's marketing. It is an effective way to promote your business and maximize your digital presence.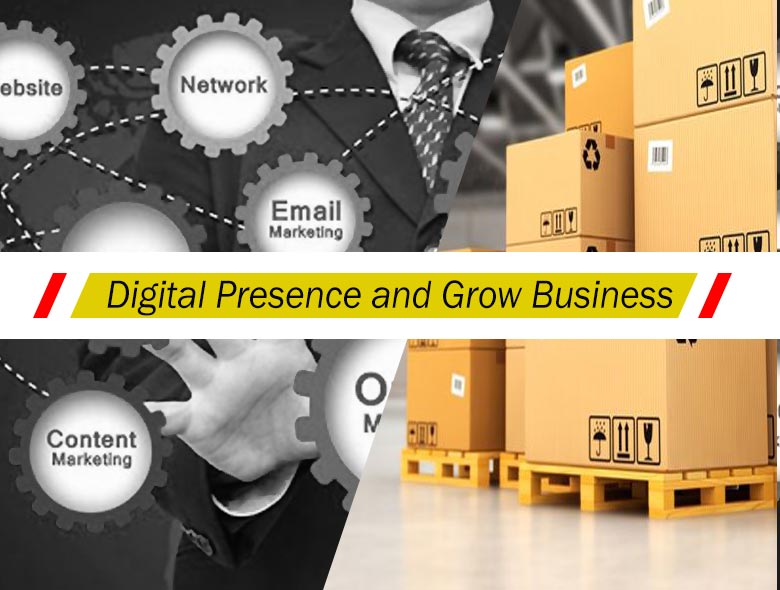 With online marketing, you can create social media campaigns, blog posts, and share content on the web. It also helps you make connections with new clients and create more sales opportunities.
You can also use online marketing to drive people to your transport company's website and ultimately, book a ride or purchase tickets from the company.
Online digital marketing is not just about making money for companies anymore – it's about building relationships that will last a lifetime.
Your digital marketing has an important role to play in your transport business. For example, you should use it when you want to raise awareness of your company and build a strong brand. You can improve your digital presence and grow your transport business by hiring a digital marketing agency.
Digital agencies have the capability of providing high-quality content in short time frames, which can help with branding. They also can provide you with analytics for your website, email marketing, social media, and advertisements.
This process is simple for the transport business; they should provide their branding guidelines to a digital marketing agency so that they can generate content that is consistent with their brand identity.
Businesses need to stay on top of the ever-changing digital landscape. This is why businesses are investing in social media marketing, content marketing, and online advertising. Here are a few ways to increase your business's online presence:
How to appear online
(a) Own Business Website
Transport businesses are growing in popularity as more and more people choose to spend their money on alternative modes of transport such as cycling and public transport. To remain competitive in this market, transport businesses should invest in developing their business websites that are SEO-friendly and effective in converting visitors into customers.
There are a lot of tools that can help to get business leads and grow the industry. One of the most important ones is your website. This is why you must make sure that it has everything it needs to reach potential clients and keep them interested.
Creating effective and unique content for your website is one way to improve your digital presence and grow your transport business through a personal website.
A small business website is a necessary tool to grow your business. It's the best way to showcase your brand and provide information about your business.
(b) Google Business Listing
If you are looking for ways to improve the presence of your transport business online by taking advantage of these new trends and growing online presence in general, then it might be time for you to create an account with Google Business Listing. The most common use case for this service is that companies want to get more visibility and traffic from searches related to their industry or location.
Google business listing is a digital service that enables companies to learn how customers see their business. Digital agencies recognize the importance of Google Business Listing and utilize it as a marketing tool to increase their outreach and make customers aware of their services.
To maintain an active presence on Google Business Listing, you need to implement strategies such as SEO, social media, and more.
When Google is used to navigate a query, the Internet giant will return several results, which include your business. However, if you have not set up your business listing on Google, it will not be among those results and you will not get your fair share of the traffic.
(c) Social media
The future of advertising is social media. 
Social media has become a platform that allows companies and consumers to interact and communicate, all while providing them with valuable information. It's a marketing tool that has proven it's worth time and time again as it's now responsible for 22% of all ad views.
There are four steps every transport company should follow on their social media strategy: Build your brand, create a content plan, create an audience engagement strategy, and measure your success.
Social media is a huge marketing technique for businesses. But, it can be difficult to make your business appear professional and credible on social media.
Companies should create posts on Twitter at least once a day – this should be tailored for the customer that you are trying to reach out to. Also, they need to post engaging content that goes beyond basic info about them. Posts with images, gifs, videos, and quotes are more engaging for customers and will help your company grow by generating more traffic from social media platforms.
(d) Blogging website
Blogging has become a popular way to share thoughts, opinions, and content. It's also an effective way to showcase your business to the world.
There are a lot of benefits of blogging. Here are some of them:
Build online relationships with potential customers and business partners.
Get more traffic to your website by using keywords that are trending in the industry or search engine optimization (SEO) tactics
Submitting your blog content for review and publication in industry magazines and blogs
Increase your SEO rankings by submitting content for review on search engines like Google, Bing, Yahoo
Generate more leads through organic traffic from other blogs/social media outlets that link back to you
Blogging websites are built to help you improve your digital presence and grow your transport business. The most important thing to remember about these websites is that no matter where you start, they provide a platform for you to share information about your transport business.
Another vital thing that you need to do when using blogging websites like these is to make sure that what you're putting out is true and fair. This will help keep people coming back for more and make the time investment worth it.
If you are interested in improving your online presence or starting a blog, then there are plenty of different options available to do so with just a little bit of research.
(e) YouTube
YouTube is one of the most popular online destinations and it is important for businesses that also have a YouTube presence.
More than 600 million people use YouTube to watch videos every day. It is the second largest search engine worldwide, and it is the most popular social media platform on earth.
To improve your digital presence and grow your transport business through YouTube, the following steps should be taken:
Create a compelling video that explains why people need to hire you
Upload videos frequently and make sure they are well-targeted and well produced.
Promote your business through YouTube ads
YouTube is a great tool for market research, customer service, and brand awareness. With YouTube, one can share amazing videos with the world – videos related to their business or their product. The more popular a video gets on YouTube, the higher the chance that it will get noticed by customers in person.
Transportation companies have had success with YouTube by creating videos that show how to use and maintain their products, and also content related to safety and customer service. This helps create a good reputation for a company on social media, which leads to better sales in-person as well as online.
(f) Classified listing
With the ever-growing market of transport, many people are trying to get a piece of the pie. Some have a car or truck, some have a van, and others have their bike. Location and convenience are key in this industry.
Transport businesses can utilize classified listing platforms to brand their business and attract customers.
A digital presence is a significant source of revenue for transport businesses. It is common for transport companies to invest heavily in building their digital presence on social media, search engines, and app stores.
The importance of improving your digital presence is not limited to your website alone. This starts with optimizing your Google Ads Management and then on growing your transport business through marketing these services online.
(g) Directory listing (B2B portal)
There are a lot of businesses that are unaware of how to get their business listed on digital directories. But this is a crucial step in your digital marketing strategy.
We should start by looking at our social media presence and the strength of our website. If our website is full of errors and has poor content, it will only be harder to gain traction with an online directory listing. For most small businesses, the biggest obstacle between them and their goal of getting listed in a digital directory is that they don't know how to do it or what it even entails.
There are agencies out there that can help business owners with this process – but you should assess your budget before looking into that as some listings can be costly depending on which directory you want to be included in.
Transport companies have to explore new ways of marketing their services. With more and more urban planners focused on developing walking and biking networks, it becomes challenging for transport companies to maintain their current market share.
Transport companies can gain visibility with the help of digital presence on online portals such as directories. They can create a listing on an online regional transportation portal and grow their business by making use of the directory listing as a platform to generate awareness about their company.
(h) Google Adwords (paid service)
Google Adwords is a digital marketing service offered by Google that pays advertisers when their ads are clicked.
AdWords is what's called a pay-per-click or "PPC" advertising campaign. In these campaigns, advertisers bid on the keywords they would like to target. The more competitive the keyword, the higher the bid, and therefore the more money they will receive for every click on their ad.
To advertise successfully in this system, it becomes crucial to find high-value keywords that will get people clicking on your ad and converting it into leads or sales. This service offers solutions to help people and companies grow their digital presence.
The main purpose of Google Adwords is to show your ads on the search engine and mobile search results pages. It helps you to reach a wider audience, increase the number of conversions and give your business more visibility in Google Search. There are different ways of using Google Adwords for businesses – it can be run from a computer, tablet, or smartphone device at any time or day.
(i) SEO marketing
SEO is the process of optimizing online content for search engine optimization to create a higher organic ranking. In today's digital world, businesses have to be present on multiple platforms to grow their brand and gain more customers.
The benefits of SEO marketing are numerous and it can help improve your digital presence and grow your business, but with that comes a lot of work. It can be difficult for smaller businesses that don't have high-end marketing budgets to stay competitive with larger companies in the market.
A solution? Companies can hire an SEO expert who will help them out with all the necessary steps to make sure their website is optimized for every platform on which they want it present. This includes writing content, developing strategies, and building an effective digital marketing plan that will help them thrive in this increasingly competitive
Conclusion
Transport agencies must have a digital presence to reach out to their customers and provide them with a seamless experience.
The key to success in this industry is providing exceptional service and value for money. For that, transport agencies need to invest in digital marketing solutions such as social media marketing, content management systems, and SEO techniques. They need to keep their website updated for SEO purposes and focus on creating engaging content through smart advertising campaigns that will result in high conversions.
Not every business needs to have a website, but transport businesses need to have a digital presence. The Internet offers many benefits and most people now use their mobile devices to find products or services they need.
Transport companies are now adapting to the technologically advanced world and investing in digital marketing strategies that make the biggest impact on their target audience.
Digital marketing is not just about improving your website; it's about reaching out to potential customers with an online presence that brings them closer to your business.
By using the most recent digital marketing techniques, you can able yourself to target and engage the audience from a wide range of locations to:
Increase efficiency and impact
Create better engagement with customers
Improve business profitability
Editorial Staff at Bharat Software Solutions is a team of transport management system development.