If you want to start your packers and movers business then think no more because the demand for packers and movers services is increasing rapidly. Gone are the days when people used to pack and move all of their belongings by themselves.
At present, everyone wants to get it done by professionals because it saves their time and energy. Above all, their belongings reach their destination safely and undamaged.
Let's Start
If this is what you are thinking, you've come to the right place. This article discusses every point as to how you can set up your packers and movers company in India.
Despite high competition, you can excel in the industry if you stay dedicated to your clients and are committed to offering unparalleled relocation services. Setting up a business in the logistics and transportation industry isn't a big deal, but sustaining and growing is a big task. So, you have to focus on the marketing aspect too to sustain in the industry and become the first choice of every corporate, household, and industry. Our today's guide will not only help you know how to start packers and movers business but also how to promote and grow it.
(a) Assent
Here are the necessary licenses and permissions that are needed to set up a moving company.
Firstly, you need to register your company as a sole proprietorship, partnership, or company formation.
You must have your firm's PAN card and current bank account to do transactions. In the case of a proprietorship firm, any of these are not needed.
Now, select a name for your company. If possible, do secure it with Trademark. Make sure the firm's name is available as a domain for website creation.
Application for Udyog Aadhaar MSME registration is a must for running a business either one or multiple locations.
The moving business establishment needs service tax registration, but, at present, you have to file GST for taxation.
(b) Service execution Plan
One of the major decisions that need to be taken while establishing a moving company is about services, and area of operations. You should decide which area you would start your operations in and what services you will offer to your target audience.
Whether you will start your operations in domestic or international locations. Other than that, decide whether you will give single or multiple packing and moving services like household relocation, corporate relocation, warehouse & storage, etc. Make your service execution plan wisely as it will considerably impact the profitability and growth of your packers and movers business.
(c) Financial Plan
Financial planning is the most integral part of every business. However, this is a service-based business and demands a huge investment in fleet and equipment.
Many times you will need to invest in raw materials too. The amount of investment is directly proportional to the size of your company. Apart from the expenses of equipment and trucks, there are miscellaneous expenses such as packaging materials and staffing.
Keeping all these expenses in mind, you need to make an estimated cost sheet of operations and marketing of your packers and movers business. Accordingly, see from where you will manage the funds to fuel your business.
(d) Vehicle
As you know that relocation is impossible without trucks so, you should have fully-functional trucks or vehicles in your company.
Now the major challenge arises when it comes to deciding whether to own or hire trucks for packers and movers services. However, this is your choice.
You should own trucks to have complete control over your company otherwise you have to first arrange for a truck from a third-party truck rental company and then confirm or reject any booking.
Nowadays, auto finance is widely offered by brands and banks. So, you can easily acquire a truck(s) for your company even if you don't have much money to buy vehicles.
(e) Network
Once you have acquired trucks, you need to decide on a business network. You must know whether you want to have a domestic or global network for your packers and movers business.
This decision depends on your financial capacity to a great extent. You should have a clear plan in your mind that even if you start your operations in the domestic country then will you offer services in single or multiple areas.
Accordingly, you have to set up branches, hire staff, and purchase the equipment to keep your network working properly. However, it is advisable to start with domestic locations and expand in the future.
(f) Manpower and Training
Just like trucks, packers, and movers company cannot run without manpower. You must have an efficient and dedicated core team to move your business successfully.
Consider your needs and make a hiring plan. We advise you to get skilled and experienced people on board because they can take care of packing and moving of goods properly than unskilled and inexperienced ones.
Relocation is not just picking, packing, and moving the goods but it's about your clients' emotions that they are handing over to you with faith for relocation. Therefore, you should have an efficient manpower. Additionally, you should see how you will provide training to them.
(h) Rate List
Make sure you have a proper rate list of all your packing and moving services otherwise you will incur losses. Undoubtedly, you should have a facility of customized relocation solutions for your customers. When it comes to setting rates for particular services in the packers and movers business, several aspects play their roles like distance, time, weight, and quantity.
You should consider all expenses to be covered while calculation prices for your services. Some of those expenses include fleet maintenance, fuel, packing material's cost, staff wages, marketing costs, etc. If you want to outperform the leaders then make sure you offer competitive rates to the clients.
(i) Branding
Just setting up packers and movers business is not enough, you need to work on its branding. That means you have to make efforts to create brand awareness for your company so people can approach you for their relocation needs.
Earlier, branding was done through TV ads and print media but, now, it's done digitally through websites and social media platforms. Therefore, you should also get a user-friendly yet appealing website designed for your business. Apart from it, work on Search Engine Optimization, social media promotion; create listings on B2B sites, do SMS marketing and ads in the newspaper, etc.
(j) Hire a suitable business system
To support your packers and movers company, you must hire a suitable business system like the one presented by Bharat Software Solutions.
The packers and movers system by BSS is an all-in-one solution that takes care of all tasks of your business like fleet management, accounts management, data security, payroll management, remote branch management, etc.
The best part is that it is customizable packers and movers software. For example, you have just started your business and don't have branches in different locations then you can skip that feature as of now and get it added later if needed.
How to grow packers and movers business?
A business establishment is easier than growing it. You have to make consistent efforts to grow your business while setting up a company is a one-time task.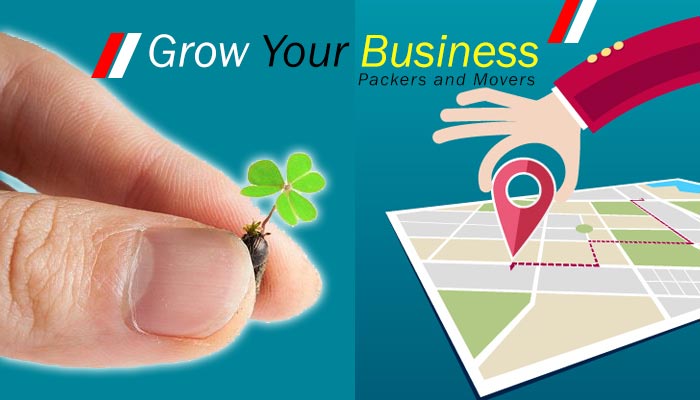 Earlier you have to give ads in televisions, magazines, and newspapers to promote your packers and movers business. But, today, the business promotion has not just become easier but also cost-effective. Thanks to digital marketing.
If you want to know how to grow packers and movers businesses then don't skip the next sections of this article because they will help you learn how to promote your business with less investment.
So, let us get started…
(a) Online Marketing
Online marketing is an amazing approach to business promotion that can do wonders for your packers and movers business. If you concentrate on digital marketing from the first day of your business and continue focusing on it, your business can become the first choice of customers in any sector for relocation needs. You just have to ensure the right digital marketing efforts and top-notch service quality to become the leader in the industry.

When it comes to marketing your packers and movers company digitally, you have to first get an informative yet responsive website designed. Then, work on its optimization so your target audience can find you in the crowd of hundreds of thousands of relocation companies online.

To draw the attention of your target audience, you can begin targeting them on social media and search engines through paid ads. You can create ads on Facebook, Instagram, and other social media channels.
You can go for Google and Bing Ads too to highlight your company on the first page of the search results. Thanks to the social media and search engines' algorithms that they truly bring verified leads and conversions by showing your company's ads to them again and again on every social media platform and website that they visit.
(b) B2B Portal and business directory listing
Listing creation on B2B portals and business directories are the important aspects of off-page Search Engine Optimization(SEO) of your packers and movers company. These listings help your target audience find and contact you easily online.
There are several business directories like Just Dial, IndiaMART, TradeIndia, etc that allow you to create a free listing for your company. These B2B platforms bring service seekers and providers together so a healthy trade can take happen.

Make sure you create as many B2B listings as possible because this creates trust amongst your target audience. When people see your company's name on so many platforms on Google then they will perceive your company to be a reliable packers and movers brand and will not be hesitant to reach you out.
The B2B business directory listings are not just helpful in getting more leads but also make an effective way to turn your small company into a recognized brand. The more people come to know about your company, the more your company will grow.

Additionally, your potential customers can learn more about you and your services by visiting your official website through these listings. With the consistent creation of B2B listings, Google starts to recommend your company for generic keywords also like best packers and movers, etc.
(c) Google Business Listing
If you are low on budget and still want to keep business promotion up and running then we would suggest Google Business Listing. It's a free business promotion approach that can bring a lot of organic leads for your packers and movers business.
You just have to create a free account on Google My Business and create a listing for your company. Now, you are all set to connect with your target audience via Google Maps and Search.
Make sure your business profile has all information like Name, office address, working hours, contact number, and photos. Customers can also leave reviews about your company that will help in business growth.
(d) Buy Paid Leads
If you have a good marketing budget then you can go for paid leads. Yes, buying paid leads can also help you in growing your packers and movers. The paid leads are the verified leads; this means people who are looking for packing and moving services. By contacting these verified leads, you are contacting the right parties and there are high chances of conversions.

If you don't know where you can buy paid leads then you should check out search engines for the companies that provide you with hot leads in your industry. You can get a certain amount of leads for a specific cost.
Editorial Staff at Bharat Software Solutions is a team of transport management system development.